Website Design
Creating a website doesn't have to be expensive.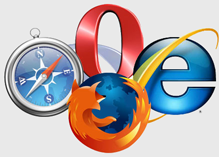 It's a new era. Gone are the days of searching through the classified ads in the newspaper to find used car, a lawn mower, a job, a used car, or even a new sofa. Gone too are the days of searching through the phone book to find an electrician, a plumber or the closest Mexican restaurant. The digital revolution is in full swing.
Today, just about everyone has a smartphone, laptop or personal computer, tablet, or some other way of accessing the internet daily. These advancements in technology enable users to look up a business or service provider, hunt for a job, or even do some shopping instantly and from anywhere. A website for your business or personal cause used to be marketing tool that was optional – today it is a necessity. A modern, stylish, interactive, clutter-free website can greatly increase your business' revenue. That's where CMR Web Studio can help.
CMR Web Studio is a FREELANCE web design studio that understands the importance of developing a strong web presence to get your business or personal cause found on the internet. We also understand that many small businesses cannot afford the budget for these things like the bigger companies in the area can. CMR Web Studio can provide a modern, stylish, responsive (mobile-friendly), search engine friendly website, based on your needs. We can even redesign your current website to be more modern and attractive. Website maintenance packages are also available. Please review our website development packages below and then fill out our Project Overview Form to see how we can help improve your web presence!
Every website is unique in nature, as the needs of each client are different. As such, it is impossible to give a "flat rate" price website development. The pricing table you see below is just a guideline provided for estimation purposes. Hourly rate for updating or maintaining websites, or creating single pages is $75/hr. A more accurate price will be given after your initial consultation to discuss your website needs.
Basic
Website

$

800

starting price

N / A

N / A

N / A

N / A
Content
Management

$

1200

starting price

N / A

N / A

N / A
E-commerce
Solutions

$

2000

starting price

50
Affordable Design Services
Does your company need a web designer to assist on projects, but can't afford to hire a full time designer? CMR Web Studio can work with your company on a by project basis.
Contact CMR Web Studio today to see how we can assist in getting your projects completed!
Why You Need A Website
A website increases your credibility
Your customers are already searching the Web
Your competitors are probably already on the Web
Build better business relationships globally and locally
A website makes it easy for people to refer new customers to you
Your website can reach potential customers locally, nationally or worldwide - at no extra cost to you.
Websites can be changed on a regular basis, print media cannot
Your web site will promote your business 24 hours a day, 7 days a week
Your web site can convey a professional and-up-to date image