The internet is truly an amazing place being used by more and more people every day. The internet allows us to research products and services before we buy them, catch up on the latest news, watch movie previews, check our bank accounts and so much more! The internet allows us to stay socially connected, too. People are connecting with childhood friends and past co-workers instantly on social media platforms such as Facebook, Twitter, FourSquare, and Pinterest.  Through outlets like these, you can even connect with some of your favorite celebrities.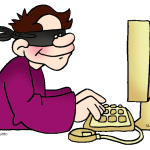 Unfortunately, for all of the good and amazing things that appear on the internet every day, there are an equal amount of bad things that appear as well. Unscrupulous people lurk everywhere in the darkest corners of the internet. These people sit alone in their  caves and think of ways to either wreak havoc on your computer, or steal you personal information, and quite possibly, your money.
According to the November 2011 report by the U.S. Department of Commerce entitled "Exploring the Digital Nation: Computer and Internet Use At Home", more than three-quarters (77%) of all American households had some type of computer at home (whether it was a laptop, desktop, or handheld mobile device) in 2010. These numbers are growing every day. More and more people use a personal computer (whether it's a PC or a Mac) daily to not only provide entertainment, but to manage their personal lives. This combined with the ever growing number of threats on the internet make having good virus protection on your computer more that an option – it is a necessity.
Having good antivirus protection is a start, but you have to USE it.
I cannot even begin to say how many friends have asked me to look at their computers that are running slow. My first question , although I already know the answer, is "Do you use the internet a lot?". My second question is "Are you running any kind of antivirus?". The answer to the first question is always "yes". the answer to the second question varies from "I think so" to "Yeah, but I haven't used it in awhile" or "yes, but it is expired and I can't afford to renew it.".
"How Often Should I Use My Antivirus Software?"
This a question that is always asked. If you are an average internet user, it is best to run your antivirus software once a week to week and a half. If you are a power user of the internet, you should run a virus scan once a week at a minimum. Even if your antivirus' real time protection doesn't detect a threat as you are surfing, you can still pick up an infection without knowing it.
"I Can't Afford Antivirus Software."
There is never a reason NOT to have antivirus. There are some awesome antivirus programs available today that are absolutely FREE. The one program that I recommend, as well as thousands of computer specialists around the nation, is AVG Anti-Virus FREE. AVG is consistently getting excellent reviews each year for its abilities.  AVG Free usually beats the big name paid antivirus programs. Unfortunately, just having ( AND USING ) an antivirus program isn't good enough anymore – it is impossible for an antivirus program to catch EVERY single malware  or virus program that is out there. The good news, however, is that there are some other excellent FREE utilities out there to help your antivirus program out. We'll cover some of those in my next post.
The internet is a wonderful, ever changing, ever expanding place full of adventures, business opportunities, and social connections. Accompanying all of this greatness is the seedy underworld of hackers, viruses, and phishers. Having and using the most current antivirus protection is more important today than ever. Get or update your antivirus today and run a scan. Practice safe browsing habits, and get yourself into a routine where you scan your computer for viruses once a week. Protect your computer equipment and yourself.